I have been going through a CheckPoint R77.30 to R80.20 upgrade. I was lucky enough to have a "lab" instance to run this through as we plan for production.
In going through this upgrade, I learned a few things being fairly new to CheckPoint.
#1 – Newer Management servers can manage much older Security Gateway. I was concerned that upgrading the management server and leaving it as is for a while which would likely be the case for production would become a major issue but it is well supported by CheckPoint. It appeared that the R80.20 Management server could manage as old as R65 SGs.
#2 – When you have an R80.20 Management server pushing IPS updates to an R77.30 instances, the R80 instance translates the IPS rules since there were major changes. This was a concern because R77 is past End of Support so I wanted to ensure IPS rules could still be downloaded and supported.
#3 – When you actually upgrade the Security Gateway, some of the IPS inspection rules change or act differently. One in particular is the "Non Compliant HTTP" which appears to no longer support HTTP 0.9.
For #3 – What this means is that GET requests without a version will may get blocked by default with the reason "illegal header format detected: Malformed HTTP protocol name in request"
Interestingly enough vendors like F5 by default for http monitors use HTTP 0.9 – https://support.f5.com/csp/article/K2167
Taken from the article

Check_MK (https://checkmk.com) when setup for distributed monitoring (remote sites) also uses an http "like" protocol that triggers this.
Options are either to add exclusions in the IPS Inspection Setting to bypass the Non Complaint for these specific cases or in the case of F5, create an HTTP 1.0 or higher compliant HTTP check.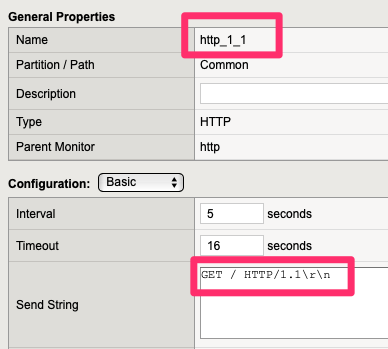 UPDATE: 2019-11-07 – I decided to kick a ticket around with CheckPoint Support on this one but have not heard back. I imagine since HTTP 1.0 has been around circa 1996 they decided to require it. In doing so they likely forgot many out of the box software is backward compatible to HTTP 0.9
UPDATE: 2019-11-11 – CheckPoint provided me with sk163481. The dates of this are after my ticket so my inquiry most likely triggered this.