Yes, this blog does tend to touch on other areas I am passionate about other than IT related topics. I'm an engineer at heart so I love investigating and understanding things, particularly those that tend to lead me down a rabbit hole.
Summary
About 6 months ago I started what would be my journey of understanding how to inspect and diagnose Magnetic Ride Control shocks. I took in my 2015 GMC Yukon Denali to the dealer for what I thought was going to be an oil change and a recall that simply required a code update. I was kindly informed that my front strut was leaking and needed replacement. Hopeful that my extended warranty might cover it, I was also kindly let know that was not the case. This was a maintenance item and parts & labor were going to be roughly $900.
Fast forward a few months and my original extended warranty was about to expire so I purchased a new one that came with a 30 day / 1,000 mile wait period. With COVID-19, I was doing 80 miles a month. I had to step it up and started doing 50-80 miles a day to make up for it. Towards the last 200 miles I realized the ride was very rough. I was not sure if the roads were terrible or not driving so much had increased my expectation of a smooth ride. Remembering that I had a leak on my front strut, I decided to take a look at the remaining strut and shocks.
Magnetic Ride Control
For those that do not know, Magnetic Ride Control is a premium suspension option in select GM vehicles. It has been around circa 2003 but is now on its 3rd iteration. There are many sources that can do a better job of explaining it than me but essentially instead of regular fluid, there is a magnetic fluid and an electromagnetic that is used to in realtime make adjust based on many driving conditions such as gas pedal position, steering position, incline of vehicle and ride height.
The rear shocks in the vehicle also have air springs that are inflated or deflated to provide auto leveling on top of this. This allows the vehicle to maintain its level independent of the load (to a degree).
For my vehicle platform (K2XX) the suspension RPO (Regular Production Option) is Z95. Here's a good link on RPOs and what they're used for – https://www.newgmparts.com/decoding-general-motors-rpo-codes
Leaky Shocks?
This is my first time having to deal with these particular shocks so I went to a few sources of information such as r/MechanicAdvice on reddit. Someone responded but they indicated that these shocks can't leak as the air spring would contain the fluid. I would later find out this was partially correct.
Deciding to wipe it down and see if more fluid showed up, it did. This caused me to reach out to a few personal contacts and their opinion was that they were indeed leaking.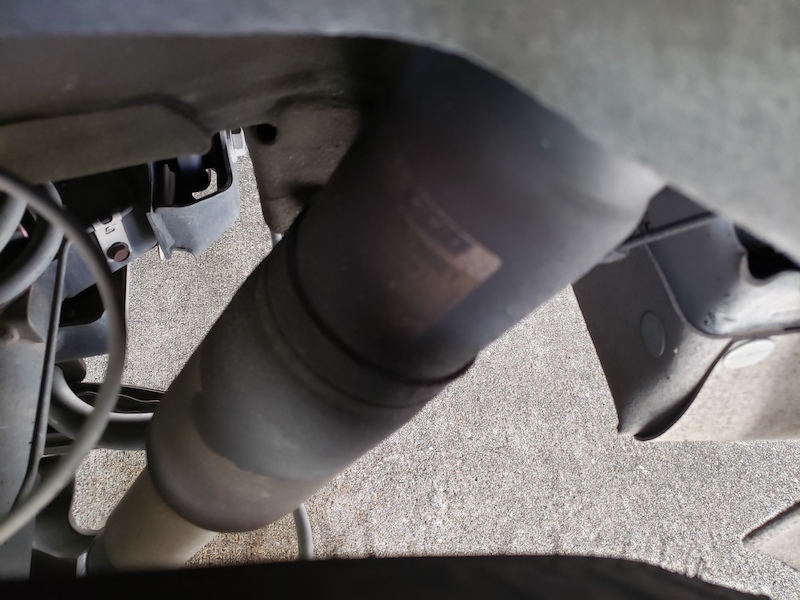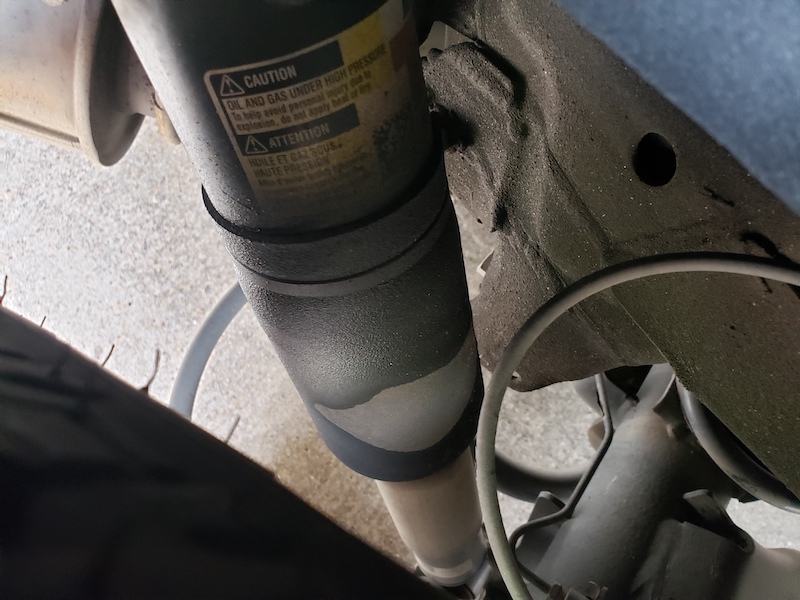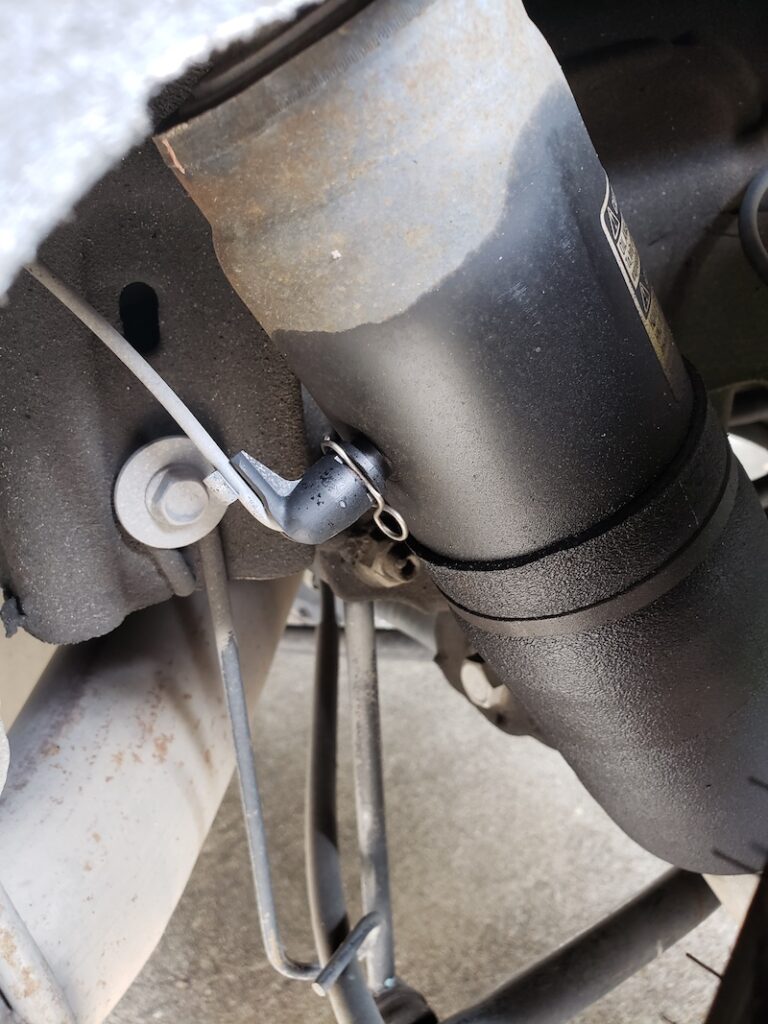 Bite the Bullet and Replace
After wiping down again, I was able to find the part number AC DELCO 23290661 which had been replaced by AC DELCO 84176675. The new part number hopefully indicated I might get more than 5 years / 37k miles on these! I shopped around and found Rock Auto had the best price for OE replacements although Arnott seemed to have a nice rebuild for $100 per shock cheaper. Maybe next time I'll go that route.
They arrived and they were beautiful! Clear as day what they should look like.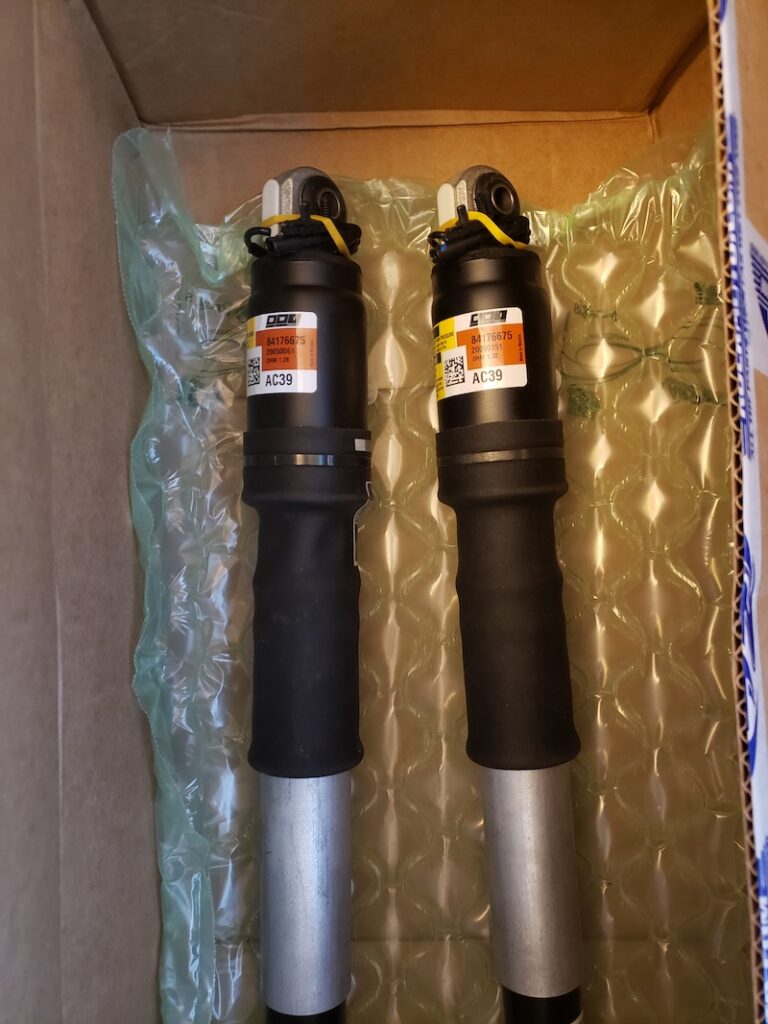 I'm a hobbyist and have done shocks before but just did not want to mess with this so I hired a local mobile mechanic to throw them in. Check out their Instagram video of them on the job! – I'm not sure why it says its violent but I promise its not!
After removing the old ones, they sure looked like they were in worse shape than I expected.
Anatomy
While learning about this I was curious of the anatomy of this. People had described it through my investigations but I'm a visual learner. I did come across this Youtube video on a Mercedes Air Shock which was similar but I wanted to see mine and how they failed.
Z95 Rear Shock Tear Down
To tear it down I used some rubber gloves as the magnetic fluid can be fairly abrasive, a very sharp box cutter and some pliers/cutters.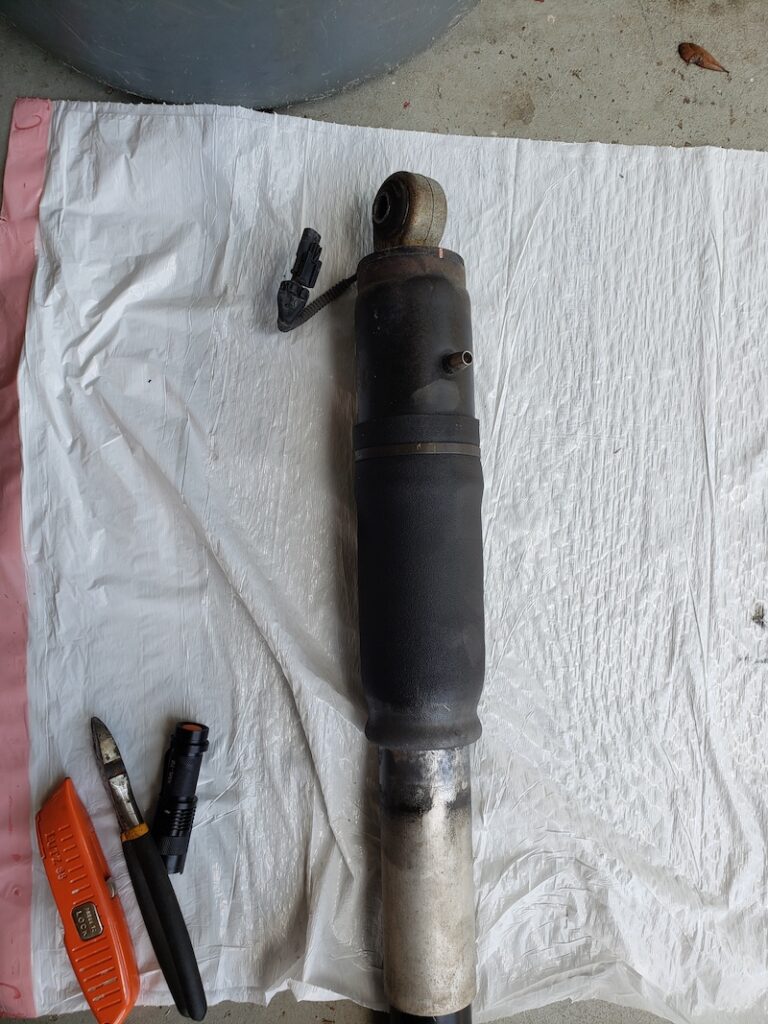 Start cutting!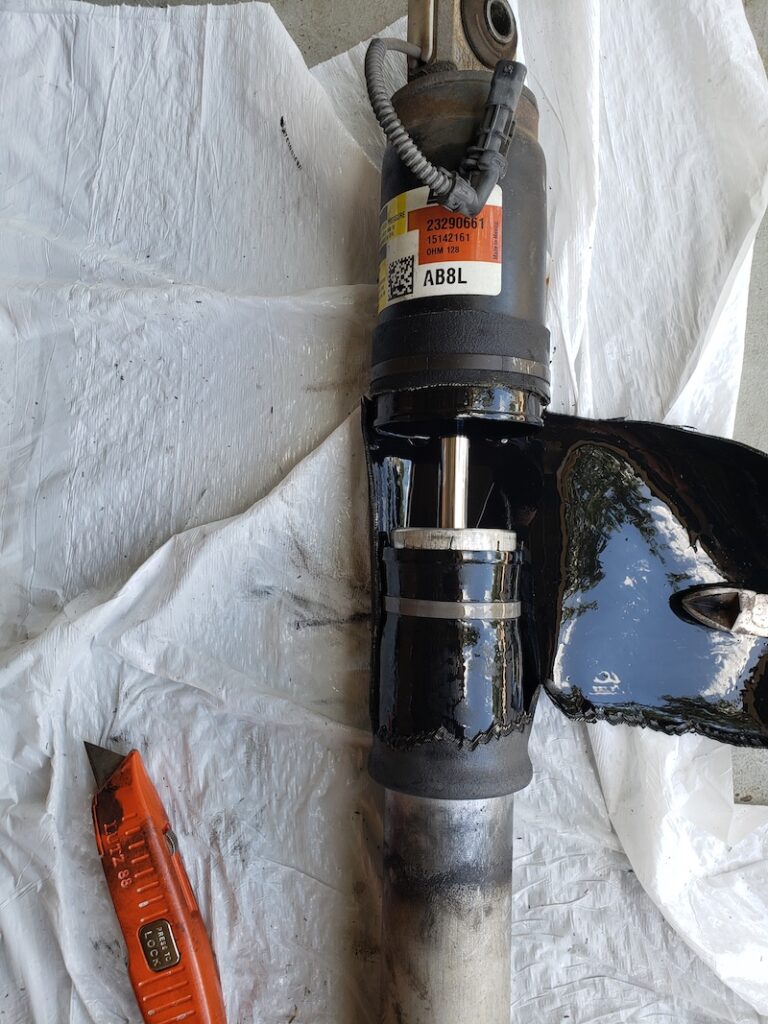 At the end you can see a fully opened MRC shock. The lines point to the retaining metallic bands that hold the bladder into place. With it removed its essentially a regular shock in appearance.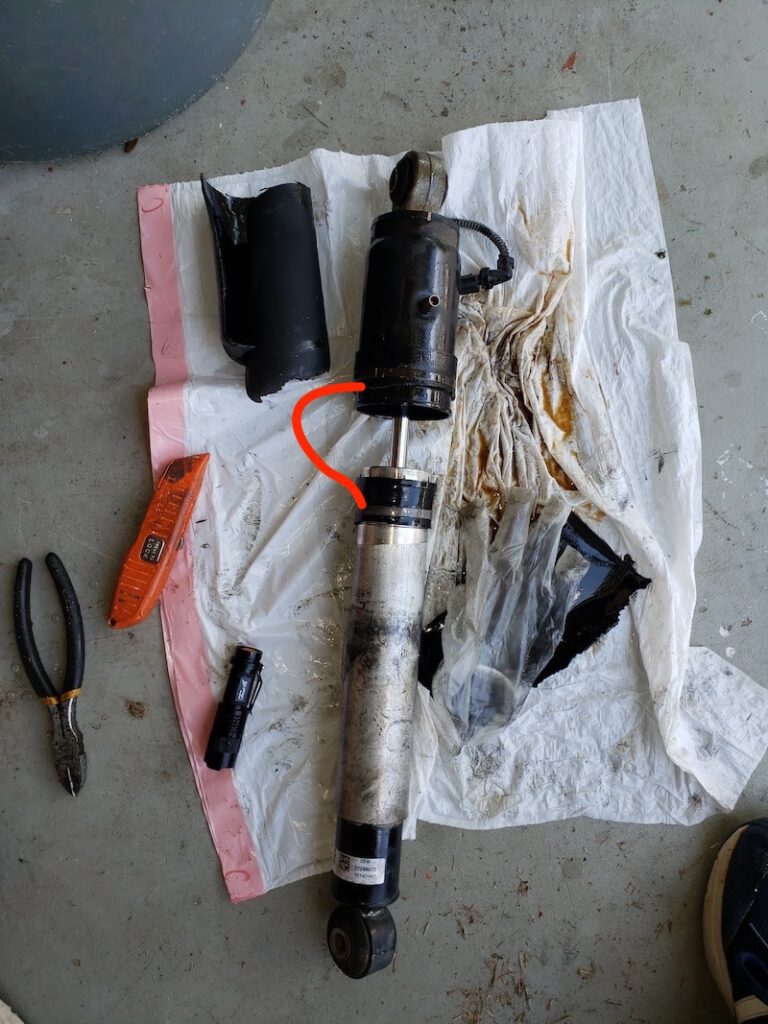 So technically the bladder should hold the fluid but apparently the abrasiveness of it causes it to start leaking out over time by eating away at the rubber.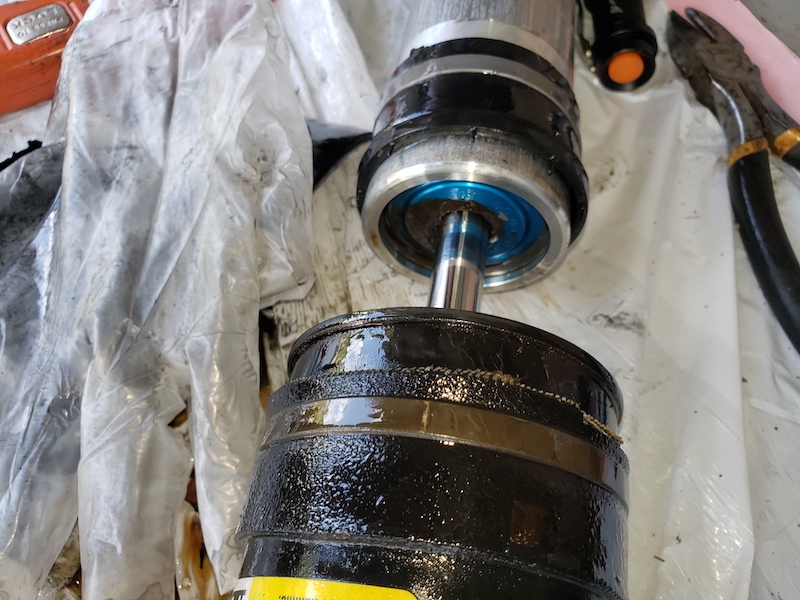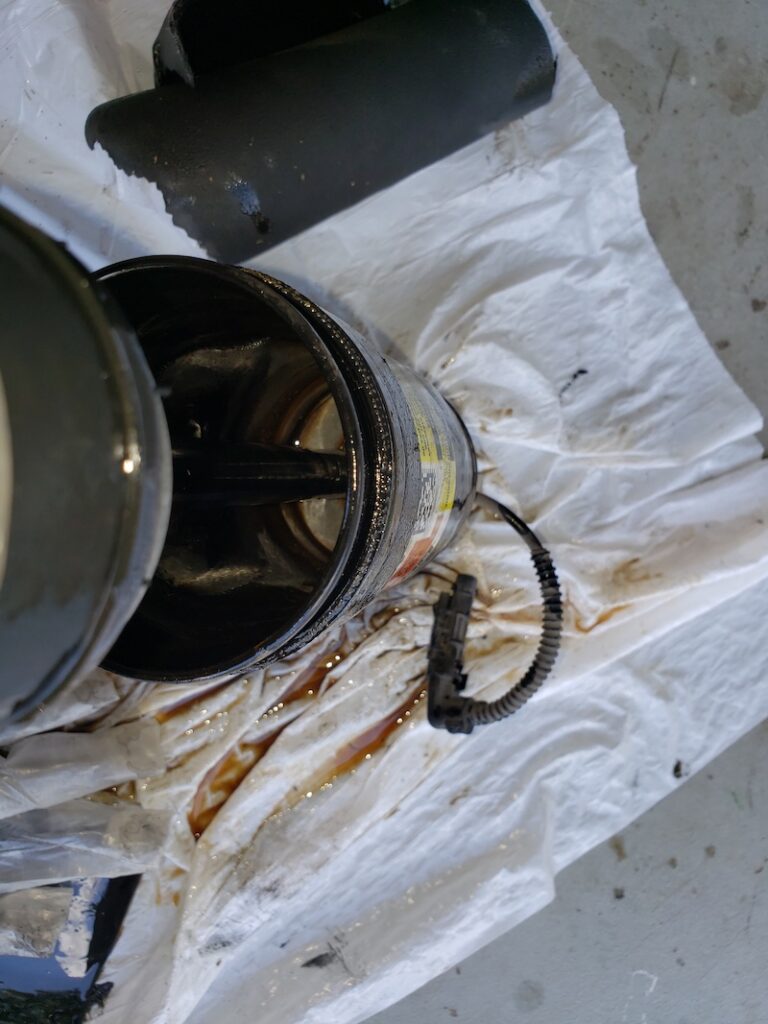 Conclusion
Now that I am familiar with these shocks and how they fail, it does appear the remaining strut in the front is leaking and time for a replacement. Luckily I came across this very informative video on how to do it. I have a buddy with a spring compressor and better yet knows how to use it so wish me luck!